We at Richmond Ford West know that our customers in the Glen Allen, Ashland, and Short Pump area understand that a healthy transmission is vital to the performance of a vehicle. Nevertheless, many drivers might not be able to identify transmission problems as quickly as they might identify an issue with their brakes. By learning the common symptoms of a failing transmission, you can save yourself a great deal of time, money, and frustration.
These educational articles on your transmission will help you to spot small issues before they snowball into major problems. We offer this resource because we believe that a more knowledgeable customer will be a safer customer. 
Transmission Services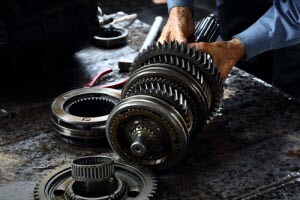 Without a healthy, working transmission, your vehicle wouldn't be of much use. The Service Center Richmond Ford West is committed to ensuring drivers get the most mileage out of their car. When visiting our dealership, you will have an exceptionally knowledgeable team of service experts at your fingertips, just waiting to diagnose and repair your vehicle in the most efficient manner possible. You can rest assured that your transmission will be fixed with up-to-date equipment, and if need be, refurbished with high qualityparts. 
Why Your Transmission May Need Service
There are several issues that could be caused by a failing transmission. Even more perplexing is that they can also come with many of the same symptoms. Our service technicians will run a comprehensive inspection to provide you with the right diagnosis. In the meantime, make yourself aware of what symptoms you should be looking for.
The transmission is the vehicle component that delivers power from your engine to your wheels. Without it, you won't be getting very far. If your car's response time feels sluggish, or your gears seem reluctant to shift, your transmission may be in trouble. The cause of this problem could be simple-low or leaking transmission fluid can affect your gear response and speed. However, if the transmission itself is damaged, a more thorough repair will be necessary. 
Do You Need Professional Transmission Repair?
The transmission is one of the most important components of any vehicle. If you suspect your transmission may be having problems, don't wait to have it checked. Read our service articles to learn more about your transmission. For repair, residents of the Glen Allen, Ashland, and Short Pump area can call Richmond Ford West to schedule an appointment today.
You May Also Like:
Continuously Variable Transmission vs. Automatic Transmission