At Richmond Ford West, we know how vital a healthy transmission is to your vehicle's performance. One of the best ways to keep your transmission working properly is to check its fluid levels regularly.  By doing so, you may be able to catch small mechanical issues before they spell huge problems for your transmission.
You can always turn to the Service Center at Richmond Ford West for comprehensive, professional transmission services. However, we know many of our friends around the Glen Allen, Short Pump, and Ashland area like taking matters into their own hands, and checking their transmission's fluid themselves.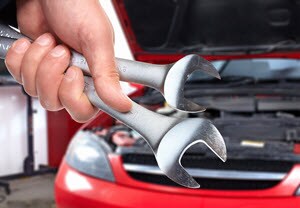 A technician is usually needed to check manual transmission fluid-the vehicle needs to be on a hoist to reach a plug underneath the transmission. However, if you drive an automatic and fall into the DIY camp, keep reading to find out how to check fluid levels in your transmission!
Locate the Dipstick.
The handle of the dipstick should be sticking out of your transmission. If your vehicle has an in-line engine and rear-wheel drive, it will be located by the back of the engine. The dipstick will be coming out of the transaxle on vehicles with front-wheel drive.
Take the Dipstick Out.
With your engine running and parking brake engaged, leave the gearshift in park or neutral. The engine should be warm when you take the dipstick out of your transmission.
Inspect the Transmission Fluid.
Look at the transmission fluid on your dipstick. Rub the fluid between your thumb and index finger. It should be pink or clear in color. If the fluid is gritty or smells like it's burning, a certified technician at Richmond Ford West should drain your transmission and replace the fluid for you.
 Clean Your Dipstick.
Use a lint-free rag to clear your dipstick of any transmission fluid. Insert the dipstick into the transmission. Pull it out again.
Check Your Transmission Fluid Level
After reinserting the dipstick into your transmission, check to make sure it reaches the "full" or "max" line. If it doesn't, use a funnel to refill the transmission with fluid. Be careful not to overfill your transmission. This step can be tricky if you've never checked transmission fluid before, but Richmond Ford West is here to help. 
Trusted Transmission Services Are Just Around the Corner 
If you think there's a problem with your automatic transmission, don't wait to have a professional look at it. Richmond Ford West provides comprehensive, convenient transmission services and repairs, and our highly-trained team of technicians are happy to assist you anytime your automatic transmission needs its fluid checked.
Richmond Ford West is proud to check the automatic transmission fluid for our friends around Short Pump, Ashland, and Glen Allen. To have your transmission fluid looked at, schedule an appointment at Richmond Ford West today.