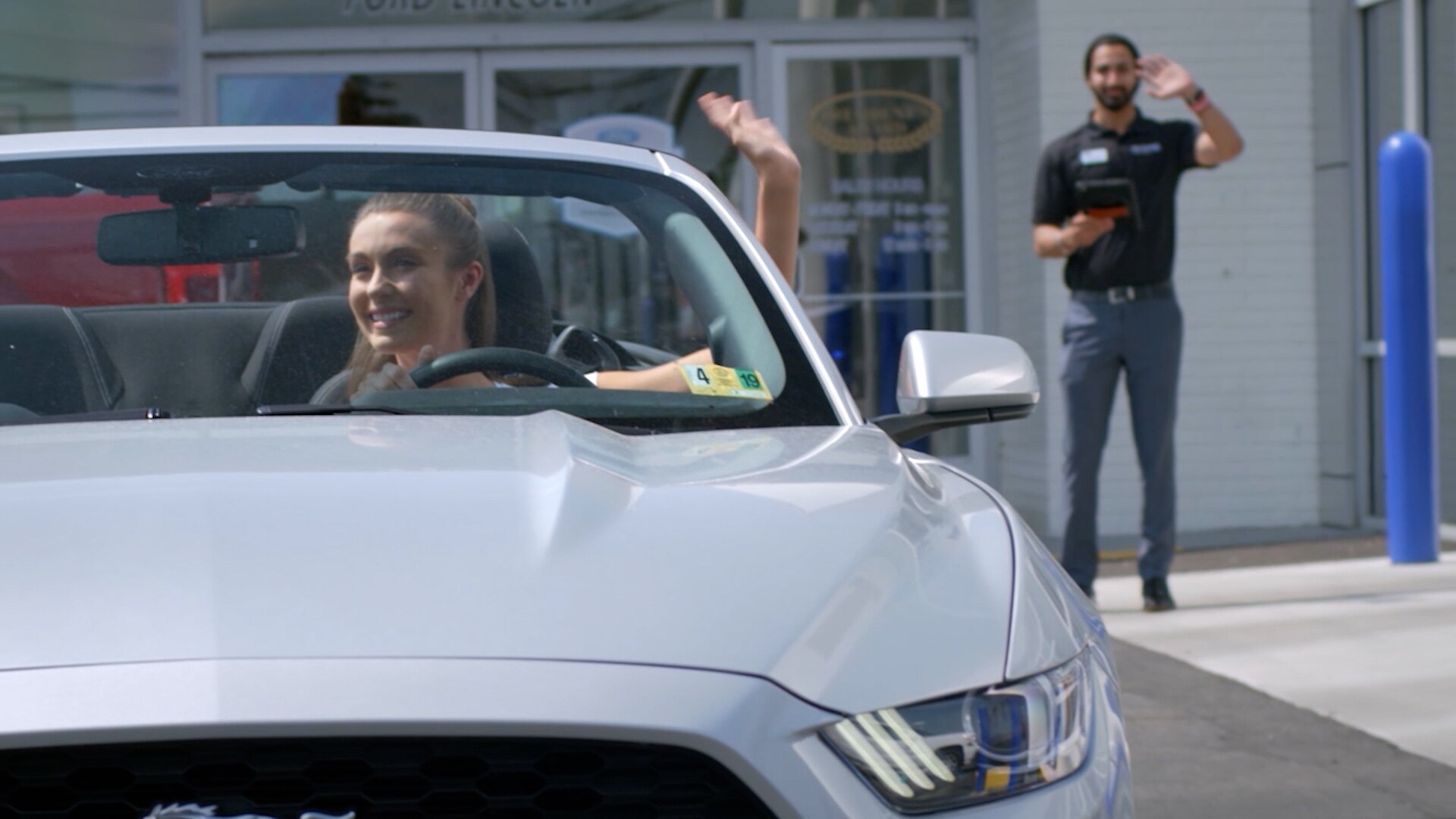 Finding a great used car that's new-to-you can be a smart decision but doing so can be overwhelming at times. To help you make your decision, Richmond Ford West has this handy-dandy guide to help you navigate through the process.
Here is the run down of the steps we'll be following:
1. Budgeting: Developing your budget.
2. Valuing your trade
3. Locating used cars: Finding used cars that fit your lifestyle.
4. Understanding different used and certified pre-owned options
5. Look over the used car: Inspecting the vehicle
6. Test drive: What to look for during your test drive
7. Financing: Identifying the best value by speaking with financial experts
Step 1: Develop Your Budget
Before you even step foot on a lot, you should get an idea of what kind of budget you need to set. You want to find a quality pre-owned vehicle that also has the value you need with this budget. You should calculate what a reasonable monthly payment will be for you and make sure you get the real value of your trade-in if you have one.
Once you know your monthly payments, the next few steps start to become more clear:
1. Browse a few used cars to get a sense of what you're looking for. A sedan? A truck? SUV? 
2. Factor in your monthly bills like rent or mortgage, utilities, essentials, and see what the max you could afford.
3. If you have a trade-in...
Step 2: Value Your Trade
If you have a trade-in, you can utilize tools such as our
trade-in calculator
to get a rough estimate of what your car is worth. At Richmond Ford West, we will work with you to get a more concrete number using our expertise and online pricing tools.
Step 3: Locating the Right Used Car
The internet is a great tool to begin your pre-owned car search. We advocate buying from a
reputable used car dealership
, not a private seller. Starting your search is as easy as typing "used car dealers near me" into a Google search.
Browse the used car inventory of the local dealerships.
Utilize the search filters available to cut down on browsing.
After you created a list of models, research these models as much as possible. Then, you can get a sense of the differences in trim levels and model years.
Make an Inquiry
* Indicates a required field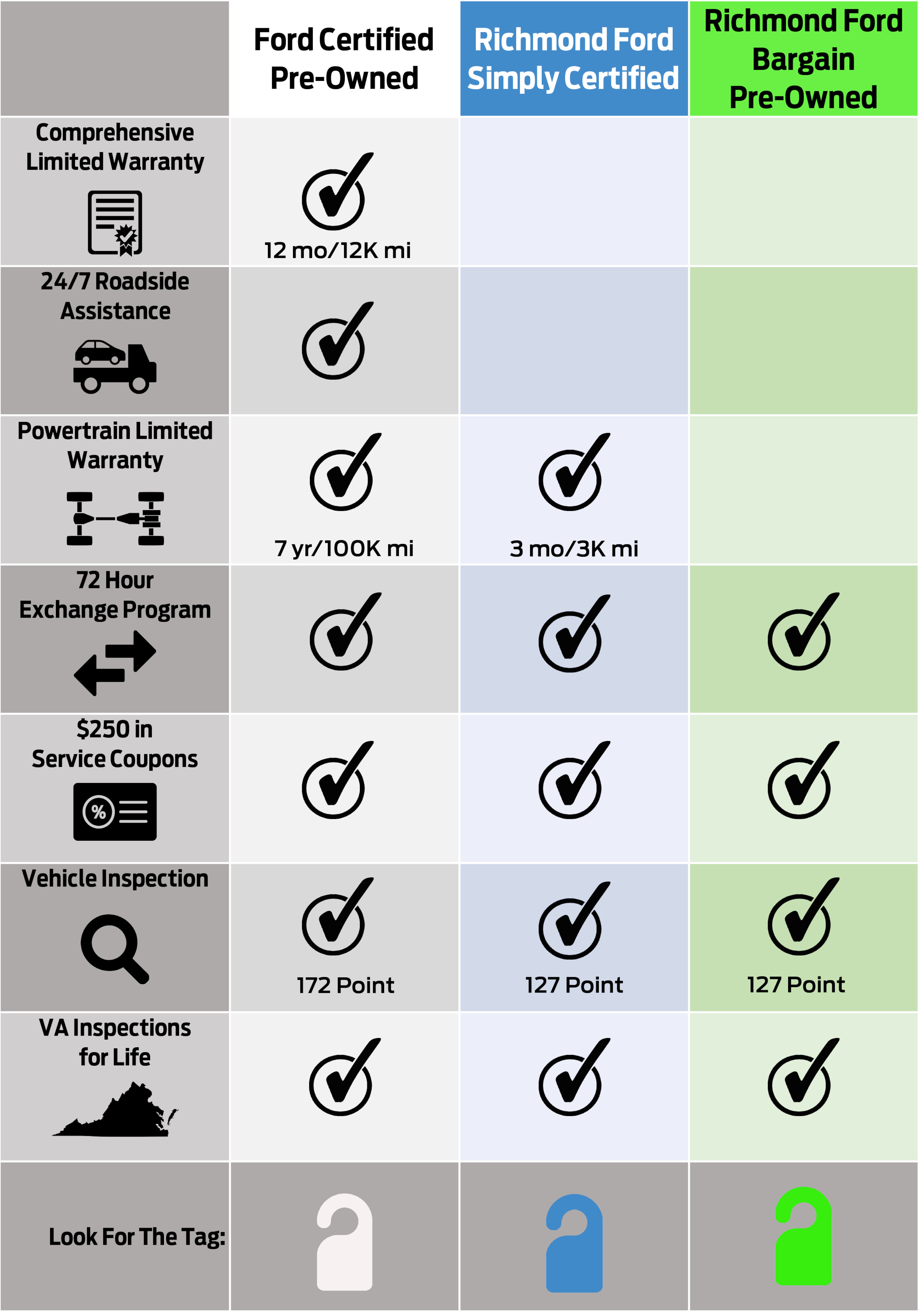 Step 4: Understand Certification Levels
When you start your search, you may notice different "certification levels". These are different levels showing the warranties, history, and special offers available for that specific used vehicle. Here's the breakdown for the different certification levels at our dealership:
    Ford Certified Pre-Owned
Comprehensive limited warranty: 12 months or 12,000 miles
Limited powertrain warranty: 7 years or 100,000 miles
24/7 roadside assistance
72-hour exchange policy
$250 in service coupons
172-point vehicle inspection
VA state inspections for life
    Richmond Ford Simply Certified
Limited powertrain warranty: 3 months or 3,000 miles

72-hour exchange policy

Complimentary first oil change and $500 in service coupons

127-point vehicle inspection

VA state inspections for life
    Richmond Ford Bargain Pre-Owned - all of our used inventory
Complimentary first oil change and $500 in service coupons 

127-point vehicle inspection

VA state inspections for life
Step 5: Looking Over A Used Car
So you found one or more vehicles you'd like to check out and decided to
drop by the dealership
or schedule an appointment with one of our sales representatives. Here is what you should let the dealership know:
1. What you're looking for: Some vehicles may be in transit or could be unlisted.
2. Which specific vehicles you're considering so they are ready to go.
3. How much time you have available for test drives.
4. If you're bringing a trade-in.
Next, you'll want to inspect the vehicle to make sure it is up to your standards and to check for any warning signs. Here are some areas our experts say you should check out:
Exterior/Interior: Look for any signs of wear such as dents, scratches, or tears in the upholstery. 
Smells: Be aware of any strange odors coming from the vehicle. You want to do this before and during your drive. Check for smells such as smoke or burning. Many of these can be fixed by the dealer.
History: Ask about the vehicle's history if available. See if the dealer has a vehicle history report.
Mileage: Make sure the vehicle is at the right mileage for you and that it matches up with the vehicle's online listed mileage.
Step 6: Take the Test Drive
This is your chance to get behind the wheel. Here are some things to keep an eye on during your test drive:
Steering Feel: How does the vehicle handle on turns? How responsive is the steering wheel?
Responsiveness: Test out the accelerator and brake pedals. Are they touchy? Barely there? Or perform as expected?
Reliability: Listen for any unusual engine sounds. An odd sound could indicate a mechanical issue.
Technology: Play with the technology features and see if they're useful for you.
Safety or driver-assistance features: Inquire about any safety features. Safety comes first!
Step 7: Financing
You've selected your next new-to-you used car. Now, you need to finance. You can improve the overall value of any used model by speaking with financial experts who understand which solutions work best for you. Your trade-in could hold quite a bit of value that you can find by scheduling an appraisal.
This appraisal will have a well-trained expert looking over the current state of your vehicle and determining a trade-in value for it based on the make, model, year, condition and reliability. 
Once you find financing that you agree with, make your purchase and you will drive home in your new-to-you used vehicle!
To begin this process at Richmond Ford West, check out our
used car inventory
. We are a used car dealership that proudly serves drivers in Richmond, Glen Allen, and Short Pump.