At the Richmond Ford West Service Department, many auto enthusiasts from Short Pump, Ashland, and Glen Allen ask us about their vehicles' recommended service intervals.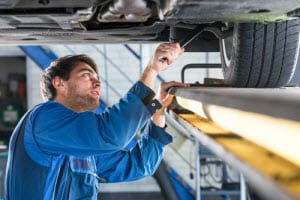 That's why we've put together maintenance schedules for each car, truck, and SUV in Ford's lineup.
Each Ford maintenance schedule lives on this page. To access them, just scroll down, find the schedule for your Ford, and click the link to learn about its factory-recommended service intervals.
If a maintenance interval is coming up for your Ford, schedule a service appointment at the Richmond Ford West service center.
Ford Edge Maintenance Schedule
Ford Expedition Maintenance Schedule
Ford F-150 Maintenance Schedule
Ford Fiesta Maintenance Schedule
Ford Flex Maintenance Schedule
Ford Focus Maintenance Schedule
Ford Fusion Maintenance Schedule 
Ford EcoSport Maintenance Schedule
Ford Edge Maintenance Schedule
Ford Escape Maintenance Schedule
Ford Explorer Maintenance Schedule
Ford Taurus Maintenance Schedule
Ford Mustang Maintenance Schedule
The Importance of Following Ford Maintenance Schedules
Regardless of whether you drive a Ford F-150 or Ford Focus, every vehicle in Ford's lineup requires maintenance and upkeep at regular intervals to run properly. Procedures like oil changes, engine tune ups, and tire rotations help to improve a vehicle's performance, even extending its life in some cases. Our Ford's maintenance schedules show you when these services are due for your vehicle, ensuring it gets the upkeep it needs when it needs it.
Following your Ford maintenance schedule also prevents your vehicle's main components from wearing down prematurely. Skipping a service interval here and there may seem inconsequential, but overtime, forgoing maintenance can wreak havoc on your vehicle's engine, belts, transmission.
This not only reduces a vehicle's performance and efficiency. It could also lead to expensive, time-consuming repairs down the road. Staying on top of your Ford's maintenance schedule helps prevent this from happening, keeping your vehicle running like new for as long as possible.
Read Your Ford Maintenance Schedule
Our Ford maintenance schedules break down the services your vehicle should receive at specified mileage intervals. That way, you'll know when you're due for an oil change or transmission flush, no guesswork required. These Ford maintenance schedules are a resource designed to help you be a responsible vehicle owner, ensuring your vehicle receives the preventative maintenance it needs.
Each of our maintenance schedules are posted below. Find the maintenance schedule for your Ford, and then schedule a service appointment at Richmond Ford West, which proudly serves Ashland, Short Pump and Glen Allen drivers.