The Ford Mustang and Nissan 370Z are two of the boldest sports cars on the road. However, in terms of design and performance, the 370Z and Mustang represent two vastly different breeds of pony cars.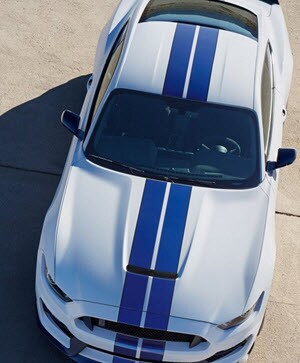 The 2017 Ford Mustang and Nissan 370Z go head-to-head in the comparison our team at Richmond Ford West put together. Which of these race-track ready roadsters is a stronger pick? Read our comparison before taking your favorite one for a ride around Short Pump, Ashland, or Glen Allen.
Nissan 370Z vs. Ford Mustang Design
Some cars are impossible to tell apart. However, it's unlikely you'd confuse a 2017 Mustang for a 370Z as several aesthetic differences give each car a bold, unique look.
Nissan 370Z Design - With its low center of gravity, sleek body lines, and arching shoulders, the Nissan 370Z is an unmistakable sports coupe. Sharp accents and dual exhaust tips enhance the 370Z's sophisticated silhouette, but the design's overall execution may be too safe for some tastes.
Exterior of the Mustang - The 2017 Ford Mustang's design takes a bolder approach with an angular frame, scalloped sides, and Ford's iconic pony logo fastened to its front grille. Fashioned after the classic Mustang Fastback, each model comes with standard HID headlamps and dual exhaust pipes that create a modern retro look. 
Comparing Dimensions & Interior - The Mustang is 20.8 inches longer and 2.6 inches wider than the Nissan 370Z. Its wheelbase is also 6.7 inches wider, transforming to a spacious cockpit with accommodations for four passengers. The Nissan 370Z's interior is much tighter than the Mustang-it only provides seating for two-and may be an impractical choice for some.
The Winner. While choosing between the 370Z and Mustang comes down to personal taste, we prefer the bold yet versatile design of Ford's classic pony car.
Performance - Riding in Style
There's no question about it-the 2017 Ford Mustang and Nissan 370Z are engineered to drive fast. When you get behind the wheel, prepare for an adrenaline rush like no other because neither car holds back when you press the gas.
Nissan 370Z Powertrain - A 3.7L V6 engine powers the Nissan 370Z. Generating 332 horsepower, the 370Z is matched to either a SynchroRev Match® manual transmission or a seven-speed automatic transmission for a truly hair-raising ride.
Ford Mustang Powertrain - With four powerful engines to choose from, the 2017 Ford Mustang kicks performance into high gear. Its base engine, a 3.7L V6, delivers 300 horsepower. A 2.4L stores 310 horsepower, and a 5.0L V8 unleashes an incredible 435 horsepower. Leading the pack in terms of power is a 526-horsepower 5.2L V8 that comes standard on Shelby GT350® trims and isn't afraid of burning rubber.
Technology Features
Thanks to their innovative technology features, the 2017 Nissan 370Z and 2017 Ford Mustang put you in complete control of your favorite media. You can make calls, look up directions, stream your favorite Pandora station, and more through their infotainment systems, which puts you in touch with the digital world with a simple click or voice command.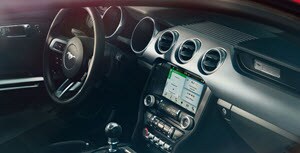 SYNC® 3 - The Ford Mustang's available SYNC® 3 feature includes Siri® seamless integration, enhanced voice recognition, and an intuitive touchscreen display. Whether you're running errands or taking a road trip, SYNC® 3 connects you to your favorite information and entertainment features wherever your journey takes you.
Nissan 370Z Technology - Offering iPod® integration, an LCD screen display, and a Nissan Hard Drive Navigation System, the Nissan 370Z brings an advanced level of convenience to every drive.

Mustang vs. 370Z-The Verdict
The 2017 Nissan 370Z is a slick, fun-to-drive sports coupe with an undeniable curb appeal. However, the 2017 Ford Mustang offers four powerful engines, a bold design, several innovative technology features, and more interior room, proving itself to be a stronger choice.
 No experience can replicate what it's like to drive a 2017 Ford Mustang around Short Pump, Glen Allen, or Ashland. Richmond Ford West has a huge inventory of 2017 Mustangs waiting for you to get behind the wheel, and our team of sales specialists can help you select one that really revs your engine.
When you're ready to try the 2017 Ford Mustang out for yourself, schedule a test drive at Richmond Ford West.