Whether you're looking to add more cargo room and keep some agility on the road, or you're trying to find the right vehicle for adventures on the road, crossovers are always worth an extra look. But, if you've browsed your options and are now choosing between the 2018 Ford Escape and 2018 Mazda CX-5, you've got to consider a few different factors to make the right decision. At Richmond Ford West, we're here to help our friends in Glen Allen, Ashland, and Short Pump get a better sense of these two crossovers.
Keep reading this Ford Escape vs. Mazda CX-5 comparison to find out which vehicle is the better choice for you!
Ford Escape vs Mazda CX-5: Engine Performance & Options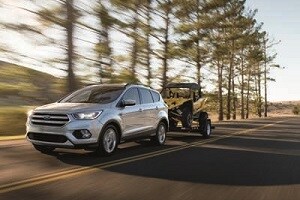 The Ford Escape and the Mazda CX-5 come with similar 2.5-liter 4-cylinder engines. Both vehicles include automatic transmissions, and they can each surpass the 165 horsepower mark. Each engine delivers a plentiful mix of power and efficiency.
The Escape offers two more engine options for drivers to choose from.
The optional 2.0-liter EcoBoost® 4-cylinder engine can produce 245 horsepower and 275 lb-ft of torque.
The Mazda CX-5 doesn't offer any other engine options and carries its base-level engine throughout all of its trims.
Ford Escape vs Mazda CX-5 Interior
Both the Ford Escape and Mazda CX-5 offer an impressive amount of cabin space for their respective five passengers. Each vehicle offers two rows, with an area for cargo behind the rear seats. The rear seats even fold down to expand the cargo area to accommodate more materials or larger pieces of cargo.
The Escape offers more legroom in the front row with 43.1 inches vs. the 41 inches found in the front row of the Mazda CX-5.
The Escape includes 34 cubic feet of cargo space while the Mazda CX-5 offers 30.9 cubic feet.
When the rear seats are folded down, the Ford Escape cargo area expands to 68 cubic feet, which is more spacious than the 59.6 cubic feet of expanded cargo area in the back of the Mazda CX-5.

Media & Technology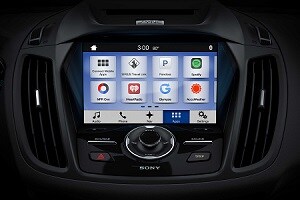 When it comes to the Escape vs. the Mazda CX-5 in terms of technology, there are some notable similarities and differences between these crossovers. Each crossover includes a voice-activated infotainment system that features a dashboard-mounted screen. Each vehicle includes a radio, CD/MP3 player, Bluetooth® connectivity, and USB and auxiliary inputs for portable media devices. The Escape includes a 6-speaker sound system while the Mazda CX-5 includes a 4-speaker system.
Deciding on the 2018 Ford Escape vs 2018 Mazda CX-5
By having read this Ford Escape vs. Mazda CX-5 comparison, you're now aware of what each crossover offers to its drivers. You're always aware of the many advantages that the Escape has over the Mazda CX-5. When you're ready, you can always come see us at Richmond Ford West to get a closer look and for some experience behind the wheel of the Ford Escape.
Learn all about the 2018 Ford Escape by browsing our online inventory of models at Richmond Ford West. We're always happy to help our friends in Glen Allen, Ashland, and Short Pump learn more about their next car!