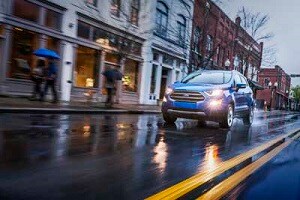 If you're determined to climb into the driver's seat of a fuel-efficient crossover, there's no doubt that you've had the 2018 Ford EcoSport and 2018 Honda HR-V on your mind. Both vehicles deliver a lot to their respective drivers, but if you're having trouble making the decision, you've come to the right place. At Richmond Ford West, we're here to help our friends and neighbors throughout Glen Allen, Ashland, and Short Pump.
Keep reading this Ford EcoSport vs. HR-V comparison to see which crossover makes the cut!
Ford EcoSport vs Honda HR-V Fuel Efficiency & Engine Options
The Ford EcoSport includes a 1.0L EcoBoost® 3-cylinder turbocharged engine and the HR-V includes a 1.8L 4-cylinder. Both vehicles can easily hit the 120-horsepower mark, but it's the fuel efficiency that shows the real difference.
The Ford EcoSport gets 27 MPG city, while the Honda HR-V limits itself to 25 MPG city, which may not seem like much, but it certainly adds up at the pump.
The Honda HR-V includes one engine option across all its trims.
The Ford EcoSport includes the optional 2.0L 4-cylinder engine, which propels the vehicle's output further.
Interior Entertainment & Technology Features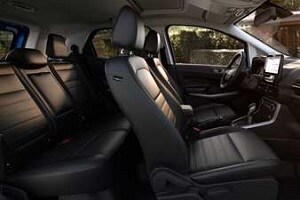 Both crossovers offer some impressive features within their respective cabins. The Ford EcoSport and Honda HR-V each include a dashboard-mounted display screen for their media options. However, the EcoSport includes enhanced voice recognition, allowing drivers to use their voice to make the media selection while on the road.
Each vehicle includes an AM/FM radio, USB and auxiliary portable media connections, and Bluetooth® connectivity for audio streaming and hands-free phone calls.
The Ford EcoSport includes a 6-speaker sound system within its cabin.
The Honda HR-V only comes with a 4-speaker sound system and getting six speakers requires an upgrade.
Exterior Style & Design
Each of these vehicles offer a distinctive style in the crossover class. The Ford EcoSport offers the stature of a crossover, but with a more compact frame, making it more agile and adept at weaving in out of traffic or fitting perfectly into tight spaces. The Honda HR-V, on the other hand, almost seems to have a lengthier body and appears more like a wagon or hatchback rather than a crossover. With a compact rear window, it seems like the HR-V isn't as agile as the Ford EcoSport, especially with the EcoSport's expansive rear window.
2018 Ford EcoSport vs 2018 Honda HR-V
At Richmond Ford West, we hope that this comparison of the Ford EcoSport vs. Honda HR-V gave you a little more detail and insight to help you with your decision. By now, you're pretty familiar with both models, and you may even be aware of the notable advantages that the EcoSport has. Of course, you can get a sense of these advantages by getting a closer look at our dealership.
Learn all about the Ford EcoSport by browsing our inventory online at Richmond Ford West. We're here to help our friends and neighbors in Glen Allen, Ashland, and Short Pump get a better sense of the vehicles they're interested in.