At Richmond Ford West, we know how overwhelming it can be when an unfamiliar dashboard light appears in your Focus' instrument panel. That's why we put together a Ford Focus dashboard light guide for our friends in Short Pump, Ashland, and Glen Allen.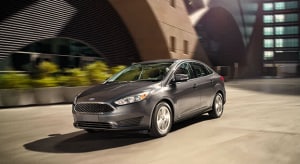 Feel free to reference our Ford Focus dashboard light guide when a question arises about the warning or indicator symbols in your instrument panel. Afterwards, the Service Department at Richmond Ford West can assist you with maintenance if that's what a symbol on your dash calls for.
Ford Focus Indicator Lights
The Ford Focus is equipped with a set of indicator lights designed to alert you when non-essential features like adaptive cruise control, blind spot monitoring, and forward collision warning are in use. If your Focus is equipped with these features, it will come with a set of corresponding indicator lights.
Adaptive Cruise Control Light: This is shaped like a car with a dial in front of it.
The Ford Focus's adaptive cruise control light will shine white when the system is activated. After adaptive cruise control is deactivated, the light disappears. 
When adaptive cruise control is engaged, the light will shine green. It disappears when adaptive cruise control is deactivated.
Blind Spot Monitor Light: This looks like the word "off" with two cars next to each other and two lines between them. The Ford sedan's blind spot monitoring light appears when the system is turned off. A corresponding message may also appear as well.
Cruise Control Light: The cruise control light looks like a dial. It will appear when the Focus is using cruise control.
Heads Up Display: The heads up display looks like a horizontal red line with tiny dashes intersecting it. If your Focus is equipped with adaptive cruise control and forward collision warning, the heads up display will appear when these systems are activated. The heads up display will also appear momentarily as a functionality check when you first activate the ignition. 
Lane Keeping Aid Light: The Ford Focus's lane keeping aid appears when its lane keeping system is activated. It looks like a car with two dashed lines on either side of it.
Ford Focus Warning Lights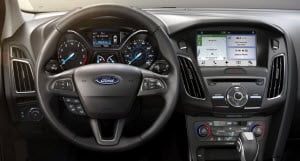 If the following Ford Focus warning lights appear while driving around Ashland or Short Pump, your vehicle requires maintenance. Some lights are more serious than others, and we've defined what some of the more common Ford Focus warning symbols are trying to tell you below.
Service Engine Soon Light: After starting your car, the engine-shaped service engine light will appear in the Focus's instrument panel if its On Board Diagnostics system detects an issue with the emissions control system. However, the service engine soon light could appear for a variety of other reasons, including:
Misfiring Engine.  The Ford Focus's service engine soon light will blink if an engine misfiring occurs. This could damage your catalytic converter. While avoiding heavy acceleration and braking, drive your Ford sedan to an authorized Ford dealership as soon as you can. 
Starting the Ignition. The Focus's service engine soon light will appear when you start the ignition to test the bulb. It also indicates whether your vehicle  is ready for inspection/maintenance testing. The service engine soon light usually stays on until the engine is cranked. However, if it stays on for more than 15 seconds and the light blinks eight times, it means the Focus is not ready for I/M testing.
Powertrain Fault Light: The Ford Focus's powertrain fault light looks like a wrench and appears when an issue has been detected with its powertrain or AWD. Anytime this powertrain fault light appears, call the Richmond Ford West service department as soon as you can.
Front Airbag Light:  If an issue has been detected with the front airbag, its front airbag light will flash, stay on, or fail to light up when the vehicle is starting. Richmond Ford West can have your airbag system checked.
Engine Oil Light: The Ford Focus's engine oil light looks like an old-fashioned oil can. If the oil light illuminates while driving, pull over to a safe location and turn off the engine. Let the engine cool off. Check the oil level. If the oil level isn't at an appropriate level, do not drive. Contact roadside assistance immediately.
Engine Coolant Temperature Light: If the Ford Focus's engine coolant gets too hot, a red dashboard light shaped like a thermometer with two squiggly lines will appear in its instrument panel. Stop the car as soon as it is safe. Turn off the engine to let it cool.
Battery Light: The battery light appears when a problem is detected with its charging system. Turn off all nonessential electrical components and drive to an authorized Ford dealership.
Clear Your Dashboard with Just One Click
Some of the dashboard lights are a cause for concern, while others are simply designed to alert you when nonessential features are being used. Anytime you're worried about a symbol in your Focus's instrument panel, the service department at Richmond Ford West is here to help.
Our friends in Ashland, Short Pump, and Glen Allen turn to us whenever a strange symbol lights up in their Focus's instrument panel, so schedule a service appointment with Richmond Ford West whenever your dashboard is aglow.