At Richmond Ford West, we're always happy to help our friends in the Glen Allen, Ashland, and Mechanicsville areas when they're making a decision with their next car. When you're considering multiple sedans like the
2018 Ford Focus
or 2018 Chevrolet Cruze, we're here to help you by comparing these models to highlight their similarities and differences.
In our Ford Focus vs. Chevy Cruze comparison, we'll be looking at these vehicles and their components and features to give you a better sense of what they each offer. You'll learn about their respective engine specs and performance, comfort and interior space, and even the media and technology features included with the sedans. Reading this comparison will show you what each vehicle offers so you can determine which one is the right pick for you.
Ford Focus vs. Chevrolet Cruze Specs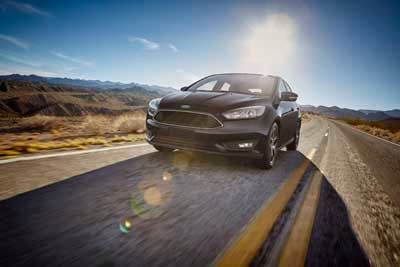 Despite being from competing brands and having similar appearances, the Ford Focus and Chevy Cruze differ greatly in this category. The Ford Focus comes equipped with a 2.0L 4-cylinder engine, and the Chevy Cruze comes with a 1.4L turbocharged 4-cylinder engine. Each vehicle offers additional engine options; however, the Ford Focus offers four total engines, while the Chevy Cruze only offers two.
The Ford Focus 2.0L 4-cylinder engine delivers 160 horsepower.
The Chevy Cruze and its 1.4L turbocharged 4-cylinder engine produces 153 horsepower.
Each vehicle comes paired with a manual transmission, but drivers have the option of selecting an automatic.
Comfort & Interior Space
The Ford Focus and the Chevy Cruze each offer spacious cabins that are tailored to fit five passengers. Each sedan features cloth seating appointments; however, higher end seating materials are available with the varying trim levels. While each vehicle's interior seems spacious enough, there are some pretty significant differences in regard to passenger space.
The Ford Focus features 43.1 inches of front legroom.
The Chevy Cruze only offers 42 inches of front legroom.
The Ford Focus has the advantage with rear headroom at 38 inches, while the Chevy Cruze features 37.3 inches of headroom in its rear.
Learn more about the Ford Focus interior in this article.
Media & Technology Features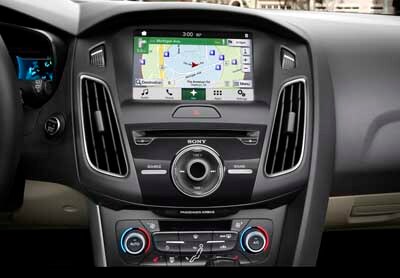 Each of these sedans comes equipped some fun and sophisticated features to help drivers get more enjoyment out of their trips. Both the Ford Focus and the Chevy Cruze feature 4-speaker sound systems to deliver audio entertainment to the passengers inside. The Ford Focus also comes standard with a SYNC® system, which is a dashboard-mounted display screen that drivers can use to access their features. They can also utilize the enhanced voice recognition to make their media selection.
Additionally, each sedan comes with a CD player, plus USB/auxiliary inputs that can be used to connect portable media devices.
Taking the Next Step with the 2018 Ford Focus
At Richmond Ford West, we hope that this Ford Focus vs. Chevrolet Cruze comparison was informative enough to provide you with the insight that you were looking for. You certainly caught a glimpse of what both vehicles are capable of and what they feature, and you've probably noticed that the Ford Focus has several advantages over the 2018 Chevy Cruze. Take the next step toward the 2018 Ford Focus by dropping by to check it out up close and even take it out for a test drive.
Richmond Ford West is proud to help friends and neighbors all throughout the Glen Allen, Ashland, and Short Pump areas. Contact us to schedule your 2018 Ford Focus test drive with us today!