With an aim toward helping locals around Glen Allen, Ashland, and Rockville, VA, make an informed decision on their next truck, Richmond Ford West has crafted this Ford F-150 vs. Toyota Tundra comparison. Both models have been praised by critics and reviewers, but which one offers the features and specifications you desire?
To find out, keep reading through this article, where we'll be pitting key characteristics of the 2020 Ford F-150 against the 2020 Toyota Tundra, including performance specifications, towing capabilities, and available exterior features.
---
Ford F-150 vs Toyota Tundra: Engine Comparison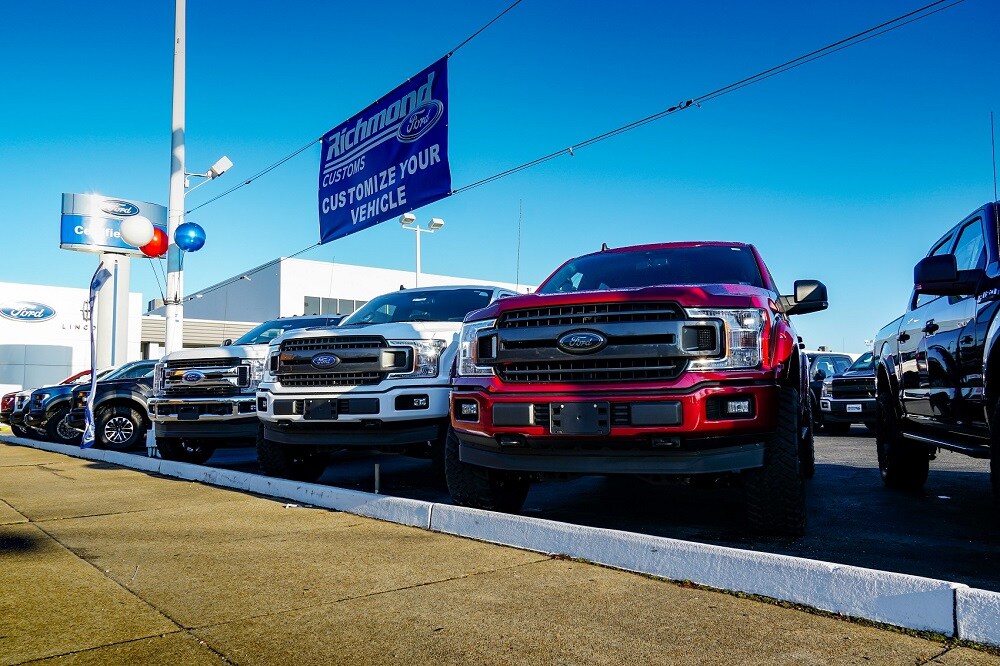 Crafting the engine bay of your truck to fit your specific performance needs is something the Ford F-150 allows you to do, which is why it gets a significant edge over the Toyota Tundra in this category.
Not only does the Ford F-150 have six available motors, but it also displays freakish power for a few options. This includes the 5.0L V8, which delivers 395 horsepower and 400 lb-ft of torque. In addition to this, there's the ferocious High-Output (H.O.) 3.5L EcoBoost® V6 that generates 450 horsepower and 510 lb-ft of torque.
By comparison, the Toyota Tundra touts just a single powertrain: a 5.7L V8 that's tough and durable yet generates a measly 381 horsepower and 401 lb-ft of torque.
Therefore, the Ford F-150 wins this round, thanks to the following specifications:  
5.0L V8 generates 395 horsepower and 400 lb-ft of torque.
H.O. 3.5L EcoBoost® V6 produces 450 horsepower and 510 lb-ft of torque.
Six available engines to pick from compared to a single, standard motor within the 2020 Tundra.
---
Ford F-150 vs Toyota Tundra: Towing & Payload Capacities
Capability goes hand in hand with performance, and the striking weights you can haul and tow with the Ford F-150 gives this truck a distinct advantage over the Toyota Tundra.
For example, the Ford F-150 has a maximum towing capacity of 13,200 pounds, making it easy to attach trailers or boats. In addition to this, you can haul 3,270 pounds of payload.

The Toyota Tundra, on the other hand, offers limited capabilities, such as 10,200 pounds of maximum towing capacity and 1,730 pounds of maximum payload.
Once again, the Ford F-150 wins this round due to the following capabilities:
13,200-pound maximum towing capacity
3,270-pound payload capacity
---
Exterior Features
To help make the work life easier, both the Ford F-150 and Toyota Tundra have useful exterior features, but the Ford truck offers a wider breadth of options.
For instance, there's an assortment of helpful features, such as LED box lighting, LED side-mirror spotlights, remote tailgate release, foldable pickup box bed extender, box side steps, and tailgate step with tailgate lift assist.

The 2020 Toyota Tundra is also outfitted with favorable exterior options, including the easy lower and lift tailgate. However, there simply aren't as many choices when compared to Ford. Part of this is because Ford has a wider variety of trim levels to choose from-a topic we'll be diving into more thoroughly in the next section.
So, for exterior customization, the 2020 Ford F-150 proves it's the better option due to the following features:
LED box lighting
LED side-mirror spotlights
Foldable pickup box bed extender
Box side steps
---
Customizing Your 2020 Truck
The work that you do each day is going to differ from anyone else. Because of that, automakers have begun providing more and more customization options for their trucks.
If you look at models like the 2020 Ford F-150 and Toyota Tundra, a host of trim levels will give you the chance to alter technology, specifications, and more. In total, Ford tops the personalization opportunities of the Tundra by offering seven trims to just six for Toyota.
Toyota starts the Tundra off with the SR trim and moves from there to the SR5, Limited, and Platinum. A sort of retro throwback truck in terms of styling is introduced with the 1794 Edition, before you finally reach the fully loaded TRD Pro.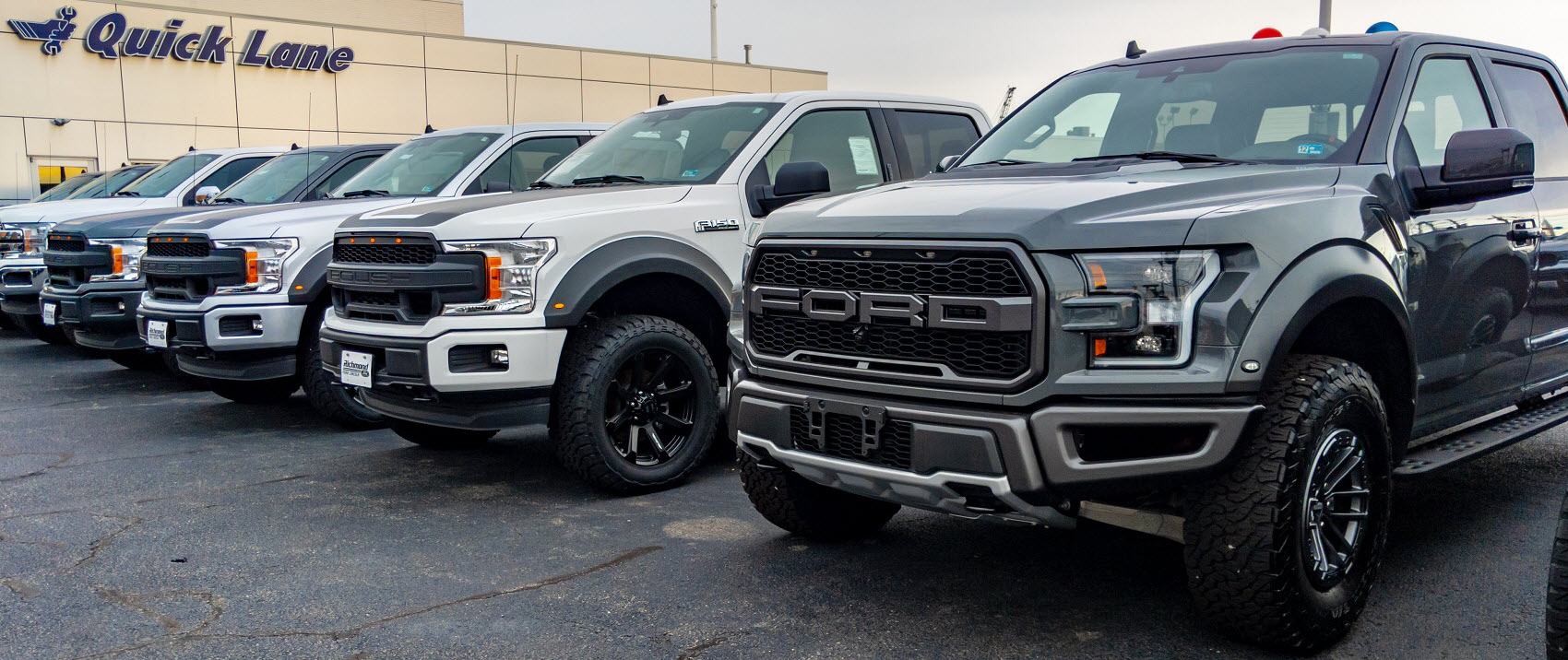 With Ford, not only are you getting a wider variety of trims, but each trim has its own personality and serves its own purpose.
The base XL is a splendid option for those who want a no-nonsense truck. The XLT and Lariat are close behind as the second and third options, before you reach the suave King Ranch.
The remaining 2020 Ford trims are:
Platinum
Limited
Raptor (off-roading trim)
---
Tackle Off-Roading with Confidence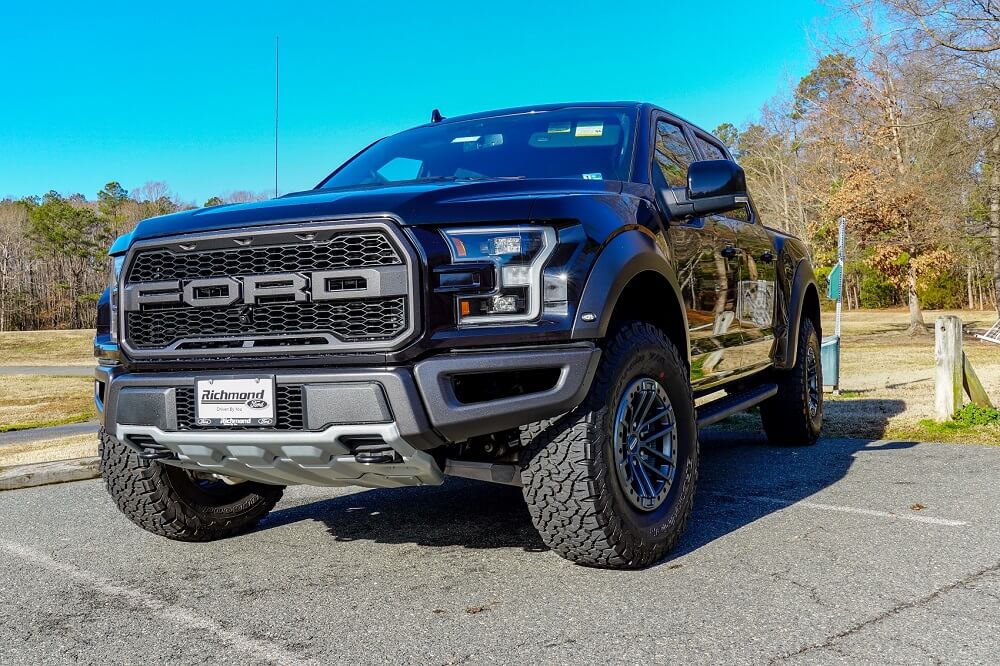 That final Ford F-150 trim, the Raptor, has long been heralded for its ability to travel up steep slopes, across muddy fields, or through whistling rivers.
For many, off-roading is an escape into a world of fun and adventure. Others need an off-roading truck to accomplish tasks on unpaved surfaces. While the Toyota Tundra gives you an off-roading trim, as well (TRD Pro), the Raptor does a better job of delivering the features you need.
Toyota outfits the TRD Pro with traits like forged-aluminum wheels and a TRD-tuned suspension with heavy-duty FOX® shocks. There are also FOX® shocks for the Raptor, yet they're a little more impressive. The FOX Live Valve Racing Shox™ are composed of monotube material and benefit from a continuously variable compression damping system.
There are other Ford Raptor traits that help you conquer any terrain, such as:
H.O. 3.5L V6 EcoBoost® engine with 450 horsepower and 510 lb-ft of torque
Trail Control™
Heavy-duty front and engine skid plates
---
2020 Ford F-150 vs 2020 Toyota Tundra: Who Wins?
After close examination, the 2020 Ford F-150 has a clear edge in this debate. The 2020 Tundra is no slouch, yet Ford delivers more impressive traits, including its varied and strong performance, rugged capability, and expansive exterior features.
If you want to test drive this hearty model around Glen Allen, Ashland, or Rockville, Virginia, contact Richmond Ford West!