When you're looking to get some serious work done around the area and your progress depends on the type of truck you have, there are only two that you should consider: the 2018 Ford F-150 and 2018 Chevrolet Silverado 1500. While these two iconic pickups have been in steady competition for the past few decades, each year brings some serious weight to the fight.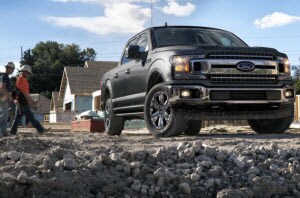 At Richmond Ford West, we're to help drivers in Glen Allen, Ashland, and Short Pump get a sense of these two powerful trucks to see which one they'll not only depend on for work but can also get them around. Keep reading to find out how the Ford F-150 vs. Chevy Silverado differ so you can decide on which one is right for you!
F-150 vs Silverado 1500 Specs
The Ford F-150 and Chevy Silverado 1500 each come with standard V6 engines; however, they each offer some impressive options that show a significant increase in their respective performances. The F-150 base level 3.3L V6 engine can deliver 290 horsepower, while the Silverado 1500 4.3L V6 engine maxes out at 285 horsepower. The Ford F-150 offers four additional engine options for drivers to choose from while the Chevy Silverado only offers two other engines that drivers can choose to get more power.
The Ford F-150 5.0L V8 engine can deliver 395 horsepower and 400 lb-ft of torque.
The Chevy Silverado 5.3L V8 produces 355 horsepower and 383 lb-ft of torque.
The highest torque output from the 2018 F-150 comes from the H.O. 3.5L EcoBoost® V6, which tops off at 510 lb-ft of torque.
The top torque provided by the 2018 Silverado comes from the 6.2L V8, which falls behind at 460 lb-ft of torque.
Ford F-150 vs Chevy Silverado Towing Capacity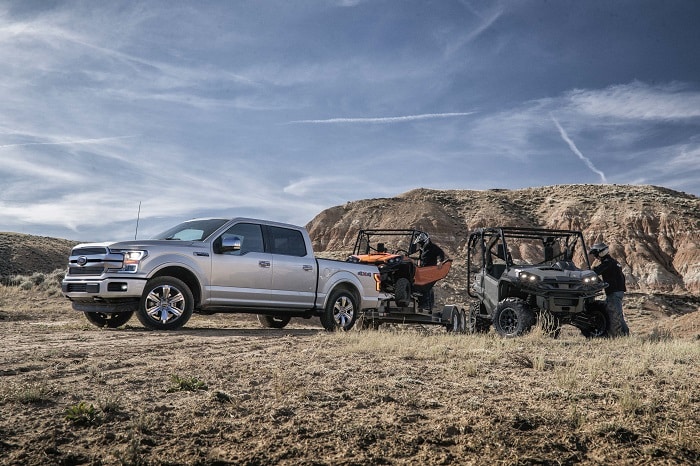 Despite their similarities in size and even in performance, there's some glaring differences in their respective towing and payload capacities. Each engine option provides different abilities, so depending on how demanding your workload is, you may want to consider these engines and their abilities so you're choosing the right truck to help you get the job done.
At the base level, the Ford F-150 can tow 7,700 pounds and carry 1,990 pounds worth of payload, while the Chevy Silverado 1500 can tow 7,600 pounds and carry 1,880 pounds of payload with its base level engine.
The 5.0L V8 engine in the F-150 allows for a 11,300-pound towing capacity and 3,270 pounds for payload.
The Silverado 1500, when equipped with the 5.3L V8, can tow 9,800 pounds and carry 2,120 pounds of payload.
The top towing capacity is 13,200 pounds from the Ford F-150 and its 3.5L EcoBoost® V6, while the Chevy Silverado 1500 maxes out at 12,500 pounds with its 6.2L V8 engine.
Learning More About the Right Pickup
At Richmond Ford West, we hope that this Ford F-150 vs. Chevrolet Silverado 1500 comparison helped answer some of your questions and provided you with the details you were looking for towards your next pickup. While you're now aware that the 2018 Ford F-150 can outperform the Chevy Silverado 1500, you can benefit from learning more about this truck with what it offers, its configurations, and even the optional packages. Of course, you'll want to get a feel for it on the road first.
Contact our team at Richmond Ford West to schedule your personal test drive. We're happy to help our friends in Glen Allen, Ashland, and Short Pump make the right decisions when it's time to find their next vehicle.