The 2018 Ford Escape is one of the most fun and reliable midsize SUVs out there. At Richmond Ford West, we've had plenty of our friends in the Glen Allen, Ashland, and Short Pump areas tell us how happy they are with it. However, we've had some drivers state that they prefer the 2018 Toyota RAV4 to the Ford Escape. We're here to see how these vehicles differ from each other, so you can tell which one is the better buy.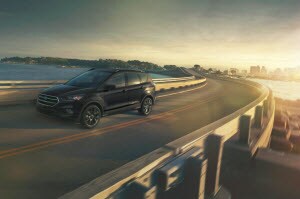 In this Ford Escape vs. Toyota RAV4 comparison, we're going to get down to specifics to see what makes these two SUVs different. You can expect to see the differences in engine options and performance, passenger space and comfort, and style and appearance. Our goal is to help you see how these vehicles differ, so you can determine which one would be the better pick for you.
Ford Escape vs. Toyota RAV4 Specs
The first step in our 2018 Ford Escape vs. 2018 Toyota RAV4 comparison is by looking under the hood of these respective midsize SUVs. Each vehicle comes equipped with 2.5L 4-cylinder engines, both of which can deliver more than 165 horsepower. However, when it comes to different performance options, one vehicle severely lacks.
The 2018 Escape offers two additional engine options: the 1.5L EcoBoost® and the 2.0L EcoBoost®.
The Toyota RAV4 only offers one other engine, which is a hybrid version of its base level engine.
The Ford Escape delivers the top output with 245 horsepower and 275 lb-ft of torque.

Passenger Space & Comfort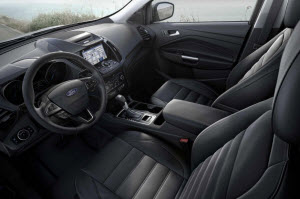 One of the main attractions to the midsize SUV category is the interior space. There's a roomy cabin, but the vehicle retains the performance of a more agile vehicle without being too big like a full-size SUV. The Ford Escape and the Toyota RAV4 each feature spacious cabins, which are suitable for five passengers to ride comfortably on fabric-trimmed seats. Despite their similarities, the 2018 Ford Escape actually has a slight advantage over the Toyota RAV4 when it comes to actual space designated for the passengers.
The Ford Escape offers more front legroom with 43.1 inches vs. the 42.6 inches offered with the Toyota RAV4.
The Ford Escape features more headroom with 39.9 inches in the front and 39 inches in the rear.
The Toyota RAV4 falls short with 39.8 inches of front headroom and 38.9 inches of rear headroom.
Style & Appearance
Considering that both the 2018 Ford Escape and the 2018 Toyota RAV4 are midsize SUVs, they share a similar appearance. However, it's hard to not notice their glaring differences. The Ford Escape has a sleeker front fascia and a smoother body. The Toyota RAV4 is stylish, but its appearance is reminiscent of a minivan that's missing its middle row. Its front fascia seems a bit clunky as well, not sharing the same refinement as the Ford Escape.
2018 Ford Escape vs. 2018 Toyota RAV4
In our 2018 Ford Escape vs. 2018 Toyota RAV4 comparison, you learned a lot about how these two midsize SUVs differ from each other. You got a sense of their respective performance, space, and style. While you learned all about the Ford Escape and its advantages, you could probably benefit from learning just a little bit more. Why not learn what it feels like when it's out on the road?
At Richmond Ford West, we're always happy to take the extra step with our friends in the Glen Allen, Ashland, and Short Pump areas to help them make the right decision towards their next car. Contact our team to schedule your 2018 Ford Escape test drive with us today.