The Ford EcoSport is one impressive vehicle. This compact SUV offers efficient performance, plenty of interior space, and a variety of top-notch technology features. However, in order for this vehicle to do its job, it needs regular maintenance services.
To help EcoSport drivers in Glen Allen, Ashland, and Short Pump properly maintain their vehicles, we at Richmond Ford West have put together this detailed maintenance schedule. Read ahead to see what your EcoSport needs and when!
Ford EcoSport Maintenance Every Six Months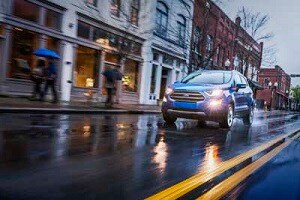 Every six months, your EcoSport will need a few minor replacements. At this service appointment, your vehicle will have its engine oil and oil filter replaced as well as its brake cleaner. Your EcoSport will also get a visual inspection to ensure that everything else is running smoothly.
Every 12 Months or 10,000 Miles
Once a year, or after 10,000 miles, you'll need to take your EcoSport in for a fairly extensive service visit. You'll have your sump plug gasket replaced and several things cleaned including the battery terminals and air conditioning dust filter.
Your EcoSport will also go through a rigorous visual inspection inside and out with extra emphasis on the following parts:
Drive belts
Transmission oil
Spark plugs
Battery
Exterior and interior lights
Windshield wipers
Windshield washer fluid
Instrument cluster
Electrically operated rear view mirrors
Horn
Air conditioner system
Parking Brake
Door alignment
Seat belts
Brake pads, brake discs, and rear brake linings
Every six months, several parts of your EcoSport will need to be adjusted. Your tires will need to be realigned, balanced, and rotated, and the nuts on your wheels will need to be tightened. Several parts will be lubricated as well including the bonnet lock, the safety clutch, the door stricker, and the door arms.
In addition to these services, your EcoSport will also need the 6-month-interval services as well, including the replacement of the engine oil and oil filter.
Every 18 Months or 30,000 Miles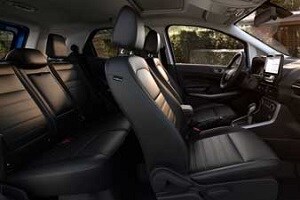 Every 18 months, you'll need a few tune-up-like services to keep you going until your next big 12-month or 24-month service appointment. Your EcoSport will have its spark plug and brake fluid replaced in addition to the services you'll get every six months.
Every 24 Months or 40,000 Miles
There's a few extra services you'll get every 24 months on top of the replacements, inspections, and cleaning services that you'll get every twelve months. Every 24 months, your EcoSport will need to have its spark plugs, engine air filter, fuel filter, and air conditioning dust filter replaced. Additionally, your brake and clutch fluid will need to be inspected and likely replaced as well.
Still Have Questions About EcoSport Maintenance?
We at Richmond Ford West hope this maintenance schedule gave you all the information you need to properly maintain your Ford EcoSport. Shoppers in Glen Allen, Ashland, and Short Pump who still have questions about maintenance should give us a call or schedule a service appointment online today!