At Richmond Ford West, we're always looking for new ways to help our friends in the Glen Allen, Ashland, and Short Pump area. Today, we're going to help you learn more about your Ford F-150's dashboard lights. In this guide, you'll learn about the different lights, what they mean when they appear, and what you should do if you're out on the road.
Differentiating Between Indicator & Warning Lights
Your instrument cluster has two sets of lights: indicator lamps and warning lamps.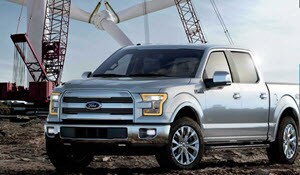 Indicator lamps are simple reminders of a system you activated, or the vehicle activated, and keeps you reminded that the system or component is on. If these lights flash, it could mean a malfunction that you'll want to come by and have checked.
Warning lamps, on the other hand, are serious business. These lights, generally an ominous red or orange, will notify you if a system or component is malfunctioning. If the light is flashing, you'll want to pull over to safety as soon as possible to prevent further damage.
Ford F-150 Indicator Lights
Electric Locking Differential. This light will appear when you're using the electric locking differential system. Once you disengage the system, the light will go away.
Hill Descent. When you're heading down a steep incline, this light will appear because the Hill Descent Control system activated. This system uses braking power to help give you more control and stability when heading down a hill.
Sport Mode. If you activate sport mode in your Ford F-150, this light will remain on until you switch driving modes.
Tow/Haul Mode. This light, also a driving mode light, is on when you're in the process of towing. Once you change back to normal driving mode, the light will deactivate.
Ford F-150 Warning Lights
Battery. When this light pops on, you should turn off all unnecessary electrical systems to prevent your Ford F-150's battery from dying. When it's possible, pull over to safety and contact us to check out the system.
Brake System. This light will appear if your parking brake is still engaged, or if your braking system is low on fluid. If it's the latter, be sure to contact us right away. 
Engine Coolant Temperature. When your engine starts running a little too hot, this light will come on. You should pull over and let the engine cool. If the light continues to pop up, don't resume your journey and contact us for assistance.
Engine Oil. If you see this light appear, you should pull over and check your oil levels. If the oil level is fine yet the light continues to stay on, you should contact us to check the system.
Getting Service at Richmond Ford West
At Richmond Ford West, we hope that this guide helped you learn about the Ford F-150 dashboard lights. Now that you know the difference between indicator and warning lamps, and what they mean, you'll be prepared for the day that they appear. Don't forget to give us a call if you need professional service and maintenance to help keep your Ford F-150 in working order.
Richmond Ford West is always happy to help our friends and neighbors in the Glen Allen, Ashland, and Short Pump area.