Buying a new Ford is exciting. However, making an educated purchase requires hours of researching cars, test driving them at Ford dealerships and exploring financing options before choosing the right Ford car, truck, or SUV for your needs.  
Buying a Ford is a huge investment, so it's important to take your time and consider each of your options. To help you navigate this overwhelming but exciting process, Richmond Ford West goes over the six steps you should take before buying a Ford in the following post.
1. Determine Why You Need a New to Buy a New Ford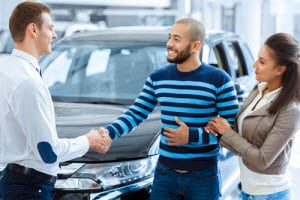 Identify your driving needs before researching the vehicles in Ford's lineup. This will help ensure you buy a Ford whose performance, design, and available technology make sense for your driving routine. 
Ask yourself why you need to buy a new Ford.
What cars would be best for you based on your lifestyle?
Make a list of space, fuel economy, and technology requirements for your new Ford. 
For example, if you have a long commute, you may want to buy a new Ford that's more efficient like the Focus or Fiesta. Or, you may be starting a family and need a roomier SUV like the Ford Expedition or Ford Explorer. Consider what you'll need from your vehicle first and then find a Ford matching those requirements.
2. Research the Vehicles in Ford's Lineup
After listing your driving needs, the next step for buying a new Ford is researching the vehicles in Ford's lineup.  Use your list to identify cars that could meet your safety, power, efficiency, and size requirements. 
Research the vehicles available in Ford's lineup.
Read vehicle reviews and comparisons online to find out which Ford is best for you.
List two to three Fords you're interested in purchasing.
There are plenty of resources online to help you conduct research, including Ford vehicle reviews and comparisons from our team at Richmond Ford West.
Each Ford review and comparison is designed to provide a comprehensive overview of how each Ford performs on the road and reading them is a crucial step to buying a Ford with the right technology, performance, and design for you.
3. Visit Richmond Ford West
Richmond Ford West has a large selection of new Fords and certified pre-owned vehicles at our showroom in Short Pump, and we're committed to helping our friends in the Richmond area buy quality Ford cars, trucks, and SUVs that match their needs. 
Richmond Ford West has a wide selection of new and pre-owned Fords to buy.
If we don't have the Ford you wish to buy, we will locate one within 48 hours. 
After identifying the Ford you're interested in, stop by the Richmond Ford West showroom to see if it's in our inventory. Even if you don't see the Ford you want, our sales team will work with you to find the right Ford within 48 hours to ensure you're fully satisfied with the Ford you drive away with. 
We also offer a variety of manufacturer and pre-owned vehicle offers so we encourage you to visit Richmond Ford West to check out the Fords we have in stock.
4. Take a Test Drive Before Buying a Ford
After choosing a Ford dealership, it's time to test drive the Fords you're interested in buying. If you're considering multiple Fords, test drive them on the same day. That way, their performances are fresh in your mind when you make a decision. Here are some tips to conducting a thorough test drive before buying a new Ford at Richmond Ford West. 
Drive each Ford on a variety of roads, including highways, city streets, and back roads. How does each vehicle perform?
Try the brakes. Are they responsive enough?
When you sit in the driver's seat, determine whether you have enough legroom. Are the seats comfortable? Are you close enough to the steering wheel?
Try the radio, air conditioning, and interior tech features. Do they work correctly?
5. Explore Richmond Ford West's Financing Options and Warranties
Hopefully, you've found a Ford you love once you've reached this step to buying a new Ford. That means it's time to visit Richmond Ford West's finance department to figure out financing, insurance coverage, and warranties. 
Check your credit score before visiting a dealership.
Visit the Ford Dealership's Finance Department to secure an auto loan.
Enjoy Richmond Ford West's complimentary 100,000-mile limited powertrain warranty.
One of the benefits of buying a Ford at Richmond Ford West is the 100,000-mile limited powertrain warranty we provide with each vehicle. We want everyone who purchases a Ford from us to have a pleasant, worry-free ownership experience, and our warranty helps provide extra peace of mind when unforeseen circumstances arise.
In addition to our warranty coverage, you can apply for credit from the comfort of your own home using Richmond Ford West's Finance Application. We also provide an online credit estimator and value your trade tool to help you establish Ford financing comfortable with.
6. Drive Home in a New Ford! 
After filling out some paperwork, congratulations! You've just purchased a brand-new Ford from Richmond Ford West.
Whether you went with a commuter-friendly Fiesta or beefy F-150 pickup, we hope you spend many happy years behind the wheel of your Ford. Each car, truck, and SUV in Ford's lineup delivers an exceptional performance, and we hope your purchase meets and exceeds your expectations.
If you're considering a Ford, check out Richmond Ford West's inventory or stop by our showroom to speak with a sales representative. We're a dealership driven by you, our customer, with a commitment to helping you buy a new Ford you're fully confident about.