Keep your wheels turning and tires strong with the Service Center at Richmond Ford West! We pride ourselves on providing convenient, comprehensive tire services for our friends in Short Pump, Ashland, and Glen Allen, and our team of expert technicians are happy to give your treads the attention they need to run properly.
We encourage you to schedule routine tire checkups with our service center since even the sturdiest treads need TLC from time to time. Richmond Ford West provides air pressure checks, tire replacements, and everything in between, and we're confident that our tire services will keep your vehicle running safely and efficiently.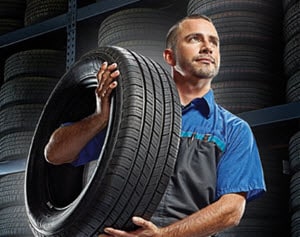 Keep reading to find out more about the tire services we offer at Richmond Ford West!
Benefits of Routine Tire Maintenance
When the rubber hits the road, you should be confident about the condition of your tires, especially when you consider what they do for your car. Tires not only allow your car to move, but also provide traction needed for safe braking, steering, and handling.
During critical situations, like when the car in front of you stops short, your tires can make a huge difference. We may not always think of tires as a safety feature, but sturdy, well-maintained treads help maintain an adequate grip, improving your stopping distance and traction when roads get slick. 
With this in mind, it's clear why scheduling regular service on your tires is important. Between commuting, running errands, and weekend road trips, your tires are going to wear down eventually. However, preventative maintenance can extend the life of your treads, allowing you to get more out of your tires before replacing them.  
Tire Services We Offer at Richmond Ford West
Richmond Ford West offers an extensive array of tire maintenance services to help you get the most out of your car's performance. If you're not sure what kind of maintenance your tires need, check out a list of some services we offer at Richmond Ford West!
Tire Rotations
Prevent uneven wear and make your treads last longer with Richmond Ford West's tire rotations. Every six to eight months, we'll move your tires front to back, left to right, or diagonally to prevent your tires from wearing out prematurely.
Tire Pressure Checks
Richmond Ford West will check your tire pressure if your vehicle's performance is falling flat. We'll also look for air leaks and patch them up as needed.
New Tires with Price Match Guarantee
All tires need to be replaced eventually, no matter how vigilant you are with maintenance. When you need new tires, Richmond Ford West will install a set that matches your vehicle's unique specifications to get you back on the road as soon as possible.   
Give Your Tires the Attention They Deserve at Richmond Ford West
At Richmond Ford West, our comprehensive tire services reduce wear and tear to make your treads last longer. Our friends across Glen Allen, Ashland, and Short Pump turn to us for tire services they can trust, so feel free to schedule an appointment with us whenever your treads need to be serviced.