Welcome to Richmond Ford West's library of dashboard light guides. On this page, you'll find a guide describing the indicator and warning lights each Ford is equipped with. Dashboard indicators communicate important information about a vehicle's inner workings to the driver, and our guides explain what these symbols are trying to tell you.  
Ford Explorer Dashboard Lights
If you're not sure what a dashboard light indicates, look it up in the guide we've provided for your Ford below. Afterwards, our neighbors in surrounding Short Pump, Ashland, and Glen Allen area can schedule a service appointment with our team Richmond Ford West to clear their dashboards of these lights.
Different Kinds of Dashboard Lights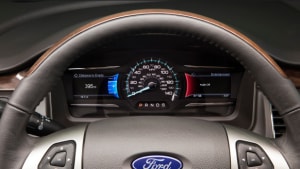 Every Ford comes with two sets of dashboard symbols-warning lights and indicator lights-and it's important to understand the difference between the two.
Indicator lights appear when your vehicle is using a non-essential feature, like high beams.
You don't have anything to worry about when indicator lights appear. Once the feature you're using is deactivated, the indicator light will disappear with it.
Warning lights are more serious, alerting the drive to potential mechanical malfunctions with a vehicle's main components, including its engine, transmission, battery, suspension, or brakes.
If a warning light appears on your dashboard, pull over and call roadside assistance. Your vehicle could sustain serious damage if you continue driving with a warning light.
Depending on the severity of the damage, you might also endanger yourself, your passengers, and other motorists. A Ford-trained mechanic can diagnose and fix the problem for you, so we recommend scheduling a service appointment immediately after a warning light appears.
Our Ford Dashboard Light Guides
Our Ford dashboard light guides take the guesswork out of decoding your dashboard. We go over the warning and indicator lights you should be aware of, providing the information you need anytime a strange dashboard symbol appears. If you're unfamiliar with a light on your Ford's dashboard, consult these guides to determine what your vehicle is trying to tell you.
If a warning light appears on your dashboard while driving through Ashland, Short Pump, or Glen Allen, the service department at Richmond Ford West is here to help. Schedule a diagnostic appointment with us anytime you notice a warning light on your Ford's dashboard.